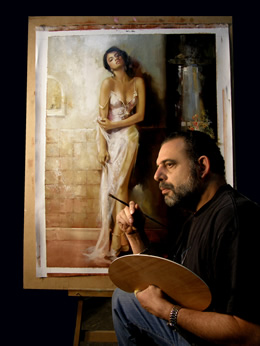 Artist Ron Di Scenza has a fitting last name. In Italian, conoscenza means knowledge or awareness, and a knowing sense of familiarity comes through Di Scenza's canvases, giving his images special meaning and significance.
Di Scenza's deep understanding of human nature is expressed in the faces and body language of his figures, much like Spanish painter Diego Velasquez and his ability to report life as it is recalls American painter John Singer Sergeant. Especially exciting, Di Scenza's detailed realism is on par with Flemish painter Johannes Vermeer's, while the soulfulness of his subjects brings to mind Italian artist Michelangelo Caravaggio.
Carrying on these powerful painting traditions in the 21st century is Di Scenza's way of connecting the classics that shaped him at an early age with today's modern, fast paced world. He is intrigued by the universal traits of humanity that span the centuries and are always relevant.
"When I paint, I try to continue the great painting methods that came before me," explains Di Scenza. "At the same time, I seek to create the immediacy of the here and now through the unique spirit of the person I'm painting. From a larger perspective, I think people of today need something to believe in, to recognize. They respect skill and want quality."
Born in 1954 in Ohio, Di Scenza's mother took him to Rome where Michelangelo Buonarroti's Sistine Ceiling convinced him then and there to become a painter. He recalls many idyllic summers spent in Italy surrounded by his sister, cousins and a vibrant natural landscape. Back home in America, he moved with his family to Long Island iin 1970 and soon Di Scenza became exposed to the exciting art scene of New York City.
His formal training includes the School of Visual Arts in Manhattan, where he was awarded a scolarship and earned his Bachelor's of Fine Arts degree. After graduating, Di Scenza became the school's yougest instructor at the age twenty while he simultaneosly embarked on a carrer in illustration that would last twenty years. A 1978 poster commission by Italian neorealist film director Ermanno Olmi gave Di Scenza his big break. For inspiration, the director, whom the young illustrator didn't recognize at first, gave Di Scenza a private showing of his masterpiece, The Tree of the Wooden Clogs, in a New York theater he had closed to the public for an afternoon. Di Scenza's brilliant interpretation of the film, which was that year's Cannes Film Festival grand prize winner, became a wildly popular poster shown all over New York City and seen by everyone.
Soon Di Scenza was enjoying a bohemian lifestyle in a Chelsea loft and thriving on New York's energy. For many years following, the city fueled his commercial work as an illustrator. Di Scenza's real calling didn't come until 1995, however, when he was 41 years old and on vacation in his parent's home town in Italy, the place of his original inspiration. One day he looked out at the breathtaking scenery and into the expressive faces of his Italian neighbors and realized he always wanted to be a fine artist, particulary an oil painter. "I had no doubt. I knew I had found my destiny and I decided to stay" recalls Di Scenza.
"The golden light and warm colors of Italy cannot be found anywhere else in the world," he continues. "The country is a natural palette of sienna, umber, ochre and warm greens and blues. From the earth to the skin tones of its people, from the old stone buildings to the air itself in Italy is bathed in a warm glow."
Today Di Scenza lives with his wife Maria, whom he met in Italy and their young son in the Italian region of Molise. He works in his studio twelve hours a day. His process begins with preliminaty drawing transferred to the canvas and he works "from dark to light." Once Di Scenza established his monochromatic design, he adds color.
"Some of my color is opaque; some is comprised of several layers of glazes," he asserts. "Light bounces off the glazes, adding life and luminescence." Di Scenza often often works from models and his own photographs to position his figures and uses his imagination for the landscape in the background. His skies and buildings are done in fìgreat detail from memory, a skill he developed as a young boy.
Di Scenza's work id bold and precise and he uses the lines canvas with an ultra fine grain to produce extremely smooth surface. Dramatic lighting is a key attribute of his works and he either creates the loght effect he wants or finds theme in nature. "One of my early influence, Rembrandt, used candles for his moody images and Vermeer often painted woman seated in a dark room next to a bright window. You can't go wrong with a window," he laughs.
"I see my work going in the direction of bringing out ever more sensibility in my subjects, creating the sensation you get when you meet someone for the first time yet feel you've known for years," Di Scenza concludes. "I'm trying to connect to that idea. Create a familiar spirit. Wheter tehy are young or old, woman, men or children, I am attracted to the unique beauty of individuals faces. I'm excited about featuring my son in several themed paintings now that he's old enought." Overflowing with the ideas, the artist also plans to incorporate the historical sites of Italy into his upcoming compositions.
Di Scenza's impressive portfolio as an illustrator includes work for Ballantine Books, Bantam Books, Doubleday, RCA Records, Field & Stream, Sports Illustrated, Time Magazine and actor Peter Sellers, for whom he created a book cover. Di Scenza also designed jewelry and objects of art for Tiffany & Co. Other clients include Sony, IBM and Caesar's Palace in Las Vegas.
Top Art, a fine art publisher based in Milan, is the sole representaative of the artist's commercial poster.
Di Scenza's paintings can be seen in galleries in the United States and Italy and in the permanent collection of many Long Island and New York City corporations. His individual collectors hail from around the globe.
Back to top